Welcome to Cardiology Associates
of Ocean County
Cardiology Associates of Ocean County provides comprehensive cardiovascular care and management of both coronary heart disease and peripheral vascular disease. We offer on-site, state-of-art diagnostic testing in a fully accredited nuclear, echocardiography and vascular laboratory.
On-site Diagnostic Testing
Nuclear stress testing
Echocardiography
Carotid and Aortic ultrasound
Pacemaker and implantable defibrillator clinics (remote and on-site)
Implantable loop recorder
Peripheral vascular disease diagnostics
Holter and event monitoring
Hospital Procedures include:
Cardiac catheterization with radial and femoral approaches
Coronary Angioplasty and Stents
Peripheral Vascular Angiography and Intervention
Structural Heart Procedures including Transcatheter Aortic Valve Implantation
Our Services →
"On the cutting edge of technology"
About us
For more than three decades, Cardiology Associates of Ocean County has been providing state-of-art cardiac care. Our highly trained cardiologists provide comprehensive cardiovascular care to our patients. Our offices are conveniently located in Brick, Manasquan, and Jackson in New Jersey, all with a service and professional staff ready to assist you.
Our Promise to You
Quality Care

Compassionate Staff

Excellent Clinicians

Professional attitude
Diagnostic testing
Fully equipped on-site facilities
Our offices are equipped to perform a variety of diagnostic testing.
Testimonials
To sum it up…I was the world's worst patient but had the world's best cardiologist * Dr.Mehra!!! I am just grateful for Dr.Mehra's expertise and comittment towards getting me back on track. I plan on taking ALL the necessary steps towards recovery and a happy blessed life with my family. Thank you sincerely.
Sal Covino
We are grateful for Dr. Mehra!!! He saved my Dad's life!!! He will remember my stubborn Dad forever …because my Dad avoided doctors at all cost and he really was a tough cookie to break!!! This doctor never stopped being professional and always remained calm and positive even when my Dad was giving him a bit of a challange. My Dad…like most patients…are not just in denial of their "bad non-functioning hearts" from years of abusing them…but…they tend to be scared to face the truth and overall try to avoid direction altogether from doctors. My Dad had 100%, 80%, and 60% blockage in 3 ateries. Dr. Mehra was successful and unblocked them ALL and placed 3 stents. Dr. Mehra changed my Dad's preception of doctors and of the whole medical field. Dr. Mehra gave my Dad his faith back in doctors and gave me back my Dad!!! I would recommend Dr.Mehra as one of the best cardiologist's at Jersey Shore Medical Center.
Jennifer Covino
My husband was transferred from another hospital to Jersey Shore Hospital and placed under Dr Mehra's care. Dr Mehra went above and beyond to help my husband. He explained things to the family and thanks to his professional expertise my husband will be here with a family who loves him for many more years to come. Words can not express our thanks.
Julia Cohn
Hospital Affiliations




Latest News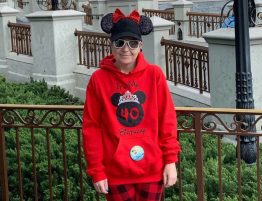 Heart transplant survivor Jen Lentini celebrated her 40th birthday at Disney World. (Photo courtesy of…