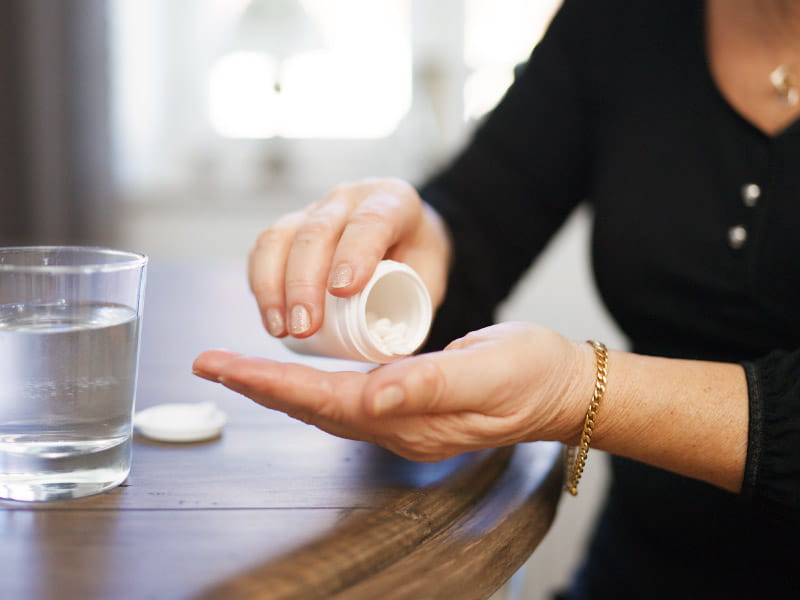 Women who take estrogen hormone pills to relieve menopausal symptoms may be more likely to develop high blood pressure than women using other forms of the medication, according to new research.
Hormone therapy may be prescribed to relieve symptoms of menopause, such as hot flashes, night sweats, mood changes and sleep disturbances. It's also used in gender-affirming care and in contraception.
Menopause causes a woman's body to produce less of the hormones estrogen and progesterone – which may increase cardiovascular risk factors, according to a 2020 scientific statement from the American Heart Association.
The study, published Monday in the journal Hypertension, explored factors associated with hormone therapy, including the types of estrogen used and how it was administered, whether orally or through topical and vaginal forms.
"We know estrogens ingested orally are metabolized through the liver, and this is associated with an increase in factors that can lead to higher blood pressure," Cindy Kalenga, the study's lead author, said in a news release. She is a medical student and doctoral candidate at the University of Calgary in Alberta, Canada.
Researchers used health data from more than 112,000 women in Canada ages 45 and older who filled at least two consecutive prescriptions – a six-month cycle – for estrogen-only therapy between 2008 and 2019. The women mostly used estradiol, a synthetic form of estrogen that most closely mimics what women's bodies naturally produce pre-menopause, and conjugated equine estrogen, an animal-derived form of estrogen.
The results showed that women who used the therapy in pill form had a 14% higher risk of developing high blood pressure compared to those using estrogen topically, and a 19% greater risk compared to those using vaginal creams or suppositories.
Compared to estradiol, the use of conjugated equine estrogen was linked to an 8% higher risk of developing high blood pressure.
The study also associated the use of a higher estrogen dose for a longer time with a greater risk of high blood pressure. The findings suggest that some types of estrogen may have lower cardiovascular risks, Kalenga said.
"These may include low-dose, non-oral estrogen like estradiol in transdermal or vaginal forms – for the shortest possible time period," Kalenga said. "These may also be associated with the lowest risk of hypertension. Of course, this must be balanced with the important benefits of hormone therapy, which include treatment of common menopausal symptoms."
Research has found that starting menopausal hormone therapy in the early stages of menopause may have cardiovascular benefits – though not in the late stages, according to the 2020 AHA scientific statement.
Dr. Sofia B. Ahmed, a study co-author and a professor of medicine at the University of Calgary, said more than a quarter of the world's female population is now older than 50, the average age at which natural menopause occurs for women. The number of women experiencing menopause is projected to reach 1 billion by 2025, she said.
"Approximately 80% of people going through menopause have symptoms, and for some it lasts up to seven years," Ahmed said in the news release. "While menopause is a normal part of the aging process, it has huge implications for quality of life, economic impact, work productivity and social relationships. We need to give people the information they need to choose the most effective and safe hormonal treatments for menopause."
Since the effects of different forms of hormone therapy on high blood pressure were based only on health records, the researchers cautioned of limitations in their findings. The study focused only on women taking estrogen-only therapy and did not include women younger than 45 or collect data about hysterectomies. The researchers also did not have data on menopausal status, so they instead relied on women's use of estrogen therapy to indicate postmenopausal status.
Although the study focused on women in Canada, researchers noted that the country's guidelines align with those from the American College of Obstetricians and Gynecologists in the United States. Both recommend appropriate use of hormone therapy and advise that it should not be considered for prevention or treatment of hypertension or heart disease.
The study's authors said their future research will look at combined estrogen and progestin, as well as progestin-only formulations of hormone therapy and the impact on heart and kidney diseases.
"It's really important to have greater knowledge on safe and effective hormonal treatments for women during menopause," Ahmed said. "At the end of the day, it's an individualized decision about what is best for the person going through menopause and should include open dialogue with their physician or health care team."