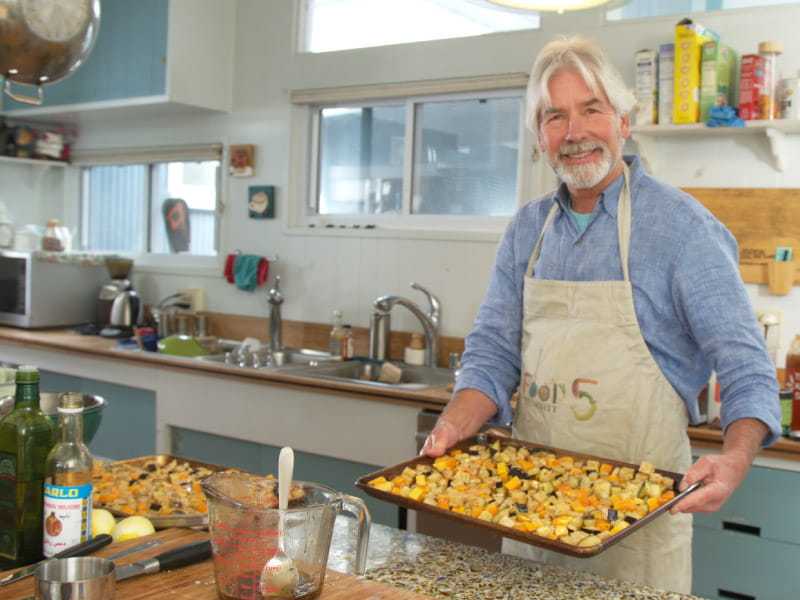 Christopher Gardner was once a junk-food-devouring teen. Today, he eats a whole-food, plant-based diet, works to improve the food system and encourages people to "be intentional about food choices. Think about them, ask others about them, discuss them, be aspirational in terms of trying to hit as many of the high notes as you can at one time."
What changed? It's a story that starts with a breakup.
Gardner, the Rehnborg Farquhar Professor of Medicine at Stanford University in California and a nutrition scientist at the Stanford Prevention Research Center, described what he eats now – and why – for "The Experts Say." The American Heart Association News series asks specialists to explain how they apply what they've learned to their own lives. Here are the highlights from Gardner.
Is there a guiding principle behind your diet?
My aspirational diet is the intersection of unapologetic deliciousness, human health, animal rights and welfare, and social justice (environmental sustainability and human labor issues in the food industry).
Did you always eat this way?
I grew up in New England eating the Standard American Diet (SAD): sugary cereals for breakfast; hamburgers or hot dogs at lunch; roast beef, pork chops, chicken breast with some kind of potato for dinner. I drank several sodas a day.
I continued eating this way through college. I changed when a girlfriend who was vegetarian dumped me, and I was hoping maybe switching to a vegetarian diet would help me get her back.
Nope. But after a few months of being vegetarian, I found it easier than I had anticipated and more personally satisfying in terms of better alignment with my personal values.
I now eat what might be considered the opposite of everything I ate while growing up.
Walk us through what you might eat in a typical day.
Breakfast is easy because I almost always have one of three:
– Steel-cut oats with nuts (such as walnuts) and fruit (mango, berries).
– Avocado toast (whole-grain bread) with kimchi.
– Muesli with unsweetened soy milk, nuts (pecans) and fruit (banana).
And always a cup of coffee, no added sugar, with a quarter-cup of frothed unsweetened soy milk.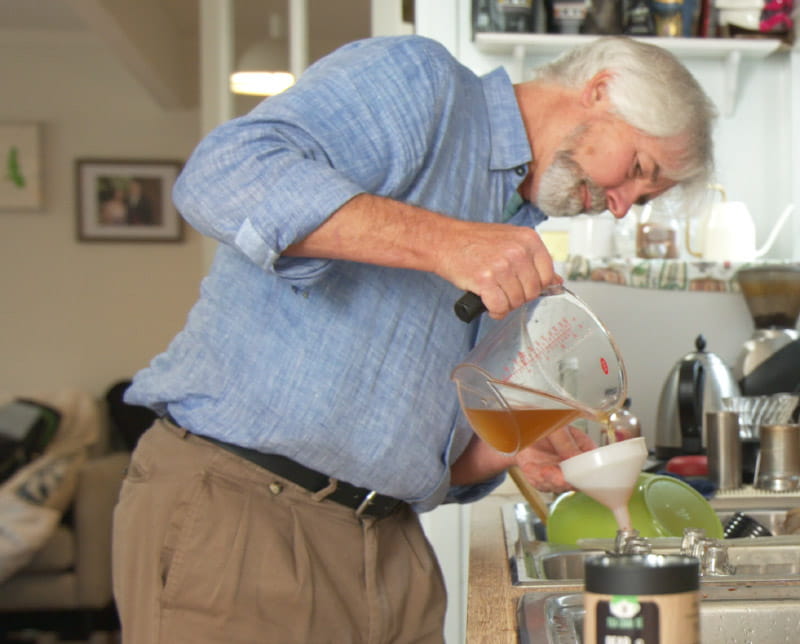 My typical lunch is leftover dinner from earlier in the week, or a salad. My typical salad is more of a meal than most would probably make, with mixed greens, four or five colorful veggies, nuts (such as roasted, unsalted cashews), garbanzo beans, and Greek olives or sun-dried tomatoes, plus oil and vinegar. Currently, my favorite salad dressing is a "flaming fig" I get at a farmers market – mission fig balsamic vinegar and a spicy Tuscan olive oil.
The salad is infinitely variable, given whatever is in the refrigerator that day. Importantly, it ends up being relatively high in fat (from olive oil, avocado and nuts) and relatively high in protein.
Dinner is the most variable. Soup – such as butternut squash or lentil-chestnut soup with sorrel – is great because I can eat some that day, have some in the fridge for tomorrow and freeze some for another day. My wife teases me for the nuts that invariably "fall" into my soups – typically roasted unsalted cashews.
I have four boys, two still in high school. They prefer simple foods like pasta. My go-to quick meal when we want everyone to join in for family dinner is "Dad's enhanced pasta sauce." Sauté onions and garlic. Add veggies – roasted red bell peppers, mushrooms, cauliflower – tempeh (fermented soybean), a can of diced tomatoes (no salt added), oregano and basil. Top all of that with a jar of store-bought pasta sauce.
The boys eat it with traditional pasta. My wife and I have been experimenting with the new chickpea pasta. But my wife often eats it like a soup or stew, without any pasta.
Another quickie is a baked head of cauliflower – break it into florets, add a little olive oil, some cumin and turmeric, bake for about 30 minutes at about 375 degrees. My 15-year-old will sometimes eat the entire thing before we explain that it was intended to be for the whole family, not just him.
If someone is looking to change their eating habits, how do they get to where you are?
Get a girlfriend to dump you.
More realistically, make changes at whatever rate you feel most comfortable – all at once, or slowly over time. Everyone is different.
Focus more on adding than avoiding. Avoiding feels like being penalized. Adding seems like exploring and experimenting. Once you have added something, you will naturally displace something else.
What are some of the most important things people should know about healthy eating?
You have to enjoy what you are eating, and it has to be practical. If you don't enjoy it, and if it isn't practical, it will be difficult to maintain.
If you manage to make an amazingly impressive dietary change that only lasts a week or a month or a year, the overall impact will be minimal compared to something you shift to that you maintain for the rest of your life.