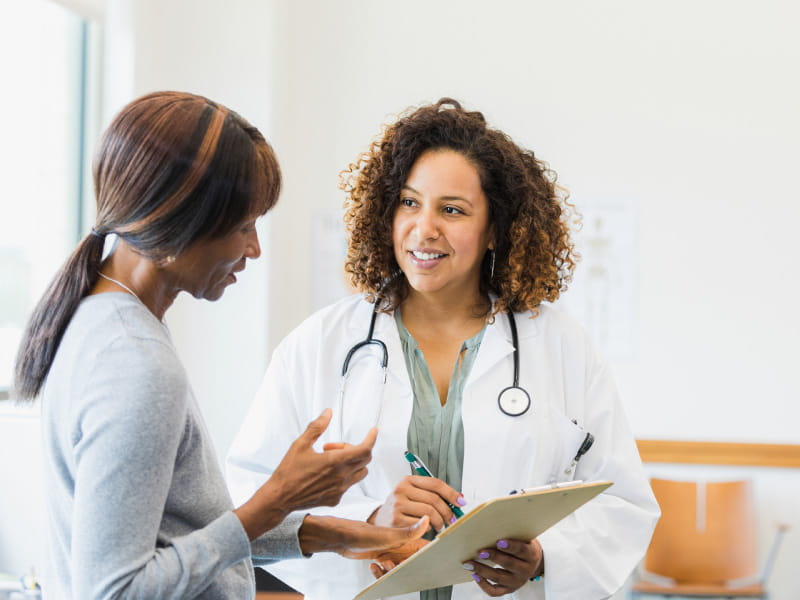 Health care teams and researchers need to do a better job of incorporating racial, ethnic, socioeconomic and sex-specific factors when evaluating heart disease risk in women, a new report says.
A scientific statement from the American Heart Association, published Monday in its journal Circulation, said that although cardiovascular disease is the leading cause of death for all women, non-biological factors affect each woman's level of risk, and research tools may not be set up to understand important differences among women of varied backgrounds.
When customizing cardiovascular disease prevention and treatment strategies for women, "a one-size-fits-all approach is unlikely to be successful," Dr. Jennifer H. Mieres, vice chair of the committee that wrote the report, said in a news release.
"We must be cognizant of the complex interplay of sex, race and ethnicity," as well as social factors, in a woman's risk of becoming sick or dying from heart disease, said Mieres, a professor of cardiology at the Zucker School of Medicine at Hofstra Northwell in Hempstead, New York.
Traditionally, heart disease risk is calculated based on factors such as Type 2 diabetes, blood pressure, cholesterol, family history, smoking status, physical activity level, diet and weight. Missing from these formulas are sex-specific biological factors, medications and conditions that are more common among women than men, the report said.
Such female-specific factors include conditions related to pregnancy, such as miscarriage, preterm delivery, gestational diabetes or preeclampsia, which is dangerously high blood pressure that develops late in pregnancy.
Other factors that should be included are menstrual cycle history; types of birth control or hormone replacement therapy used; and polycystic ovarian syndrome, the report said.
Women also are more likely than men to develop autoimmune disorders, such as rheumatoid arthritis or lupus, which are associated with faster buildup of plaque in the arteries and worse outcomes after heart attacks and strokes. And women are more likely to have depression or post-traumatic stress disorder, which are associated with a higher risk of developing cardiovascular disease.
While risk assessment is the first step in preventing heart disease, traditional medical factors are limited in their ability to comprehensively estimate a woman's risk, Mieres said.
Social factors, known as the social determinants of health, also play a significant role, the report said. Social determinants of health include education, economic stability, neighborhood safety and access to quality health care.
"It is critical that risk assessment be expanded to include social determinants of health as risk factors if we are to improve health outcomes in all women," said Dr. Laxmi S. Mehta, chair of the report's writing group.
"It is also important for the health care team to consider social determinants of health when working with women on shared decisions about cardiovascular disease prevention and treatment," said Mehta, director of preventive cardiology and women's cardiovascular health at the Ohio State University Wexner Medical Center in Columbus.
Researchers can be hampered by a lack of tools, the report said. For example, large patient data registries used to develop cardiovascular risk assessment formulas lack racial and ethnic diversity and may not accurately reflect risk for women of underrepresented groups.
The report highlights known differences, such as:
– Non-Hispanic Black women in the U.S. have the highest prevalence of high blood pressure in the world, above 55%. They are also more likely to develop Type 2 diabetes; have obesity or extreme obesity; and to die of smoking-related diseases.
– Non-Hispanic Black women are disproportionately affected by traditional risk factors and experience the onset of cardiovascular disease at younger ages. Social determinants of health are a key driver for this disparity.
– Hispanic women have a higher rate of obesity compared with Hispanic men. Hispanic women born in the U.S. also have higher rates of smoking than those who were born in another country and immigrated to the U.S.
– Despite higher rates of Type 2 diabetes, obesity and metabolic syndrome in Hispanic women, their cardiovascular disease death rates are 15% to 20% lower than among non-Hispanic white women. It's possible that this is due to grouping diverse subcultures together in research data.
– American Indian and Alaska Native women have a higher rate of tobacco use than other groups. Type 2 diabetes is the primary risk factor for heart disease among American Indian women, but rates vary by region. The prevalence is 72% among American Indian women in Arizona but just more than 40% among those in Oklahoma, North Dakota and South Dakota.
– Understanding the cardiovascular health of American Indian and Alaska Native people is challenging because of factors that include small sample sizes in national data and racial and ethnic misclassification.
– Asian American women have varied rates of cardiovascular disease risk within Asian subgroups. For example, high blood pressure rates are 30% among Chinese women and 53% among Filipino women, while Type 2 diabetes prevalence is highest among Southeast Asian women.
The report said that cardiovascular disease prevention guidelines could be strengthened by urging culturally specific lifestyle recommendations. It also urged more research to address gaps in knowledge about risk factors among women, including collecting data specific to subgroups of each race and ethnicity.
"The delivery of equitable cardiovascular health care for women depends on improving the knowledge and awareness of all members of the health care team about the full spectrum of cardiovascular risk factors for women, including female-specific and female-predominant risk factors," Mieres said.