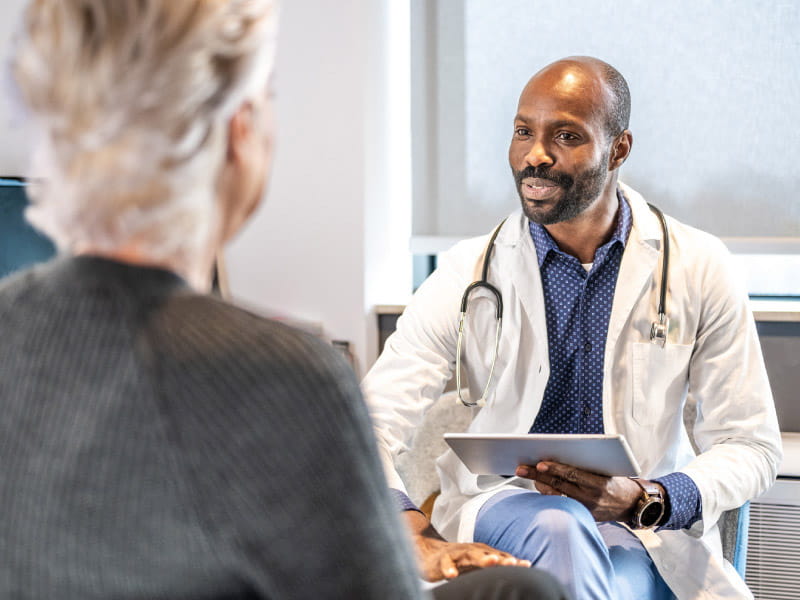 The responsibility of understanding what a health care professional is saying during a visit to the doctor's office falls on more than just the patient.
That obligation to ensure individuals can access and comprehend basic health information in order to make health-related decisions is shared by the doctor, nurse, health insurance provider and even public health officials – perhaps even more so than the patient, said Dr. Michael Paasche-Orlow, a primary care physician and vice chair for research at Tufts Medical Center in Boston.
It can be tough enough for people to navigate the complex health care and health insurance systems.
"A clinician might come into the room and talk jargon all the time. Or public health messages might be confusing," said Paasche-Orlow, also a professor of medicine at Tufts University School of Medicine.
A comprehensive philosophy for addressing heath literacy is embraced by the U.S. Department of Health and Human Services, which updated its Healthy People 2030 plan to cover two definitions of health literacy.
Personal health literacy is the degree to which individuals have the ability to find, understand and use information and services to inform health-related decisions and actions for themselves and others, according to the federal plan. Organizational health literacy is the degree to which organizations equitably enable individuals to find, understand and use information and services to inform health-related decisions and actions for themselves and others.
This changed from the 2020 plan that provided just one definition focused on the individual.
Research suggests most adults in the U.S. struggle with health literacy. Limited health literacy "has profound costs for individual and public health" and has been associated with poorer overall health status, higher health care costs and an increased likelihood of rehospitalization and death, according to a 2018 scientific statement from the American Heart Association.
"It is a big burden to expect people to go out and become health literate, particularly those who are working, caring for family and have limited resources and time," said neurologist Dr. Lewis Morgenstern, a professor of neurology, emergency medicine and neurosurgery at the University of Michigan Medical School.
Responsibility lies with health care professionals, as well as the K-12 education system, he said.
"It is my job as a doctor to make my patients health literate in the disease that they have and to help them navigate the terminology and complexities of that disease," Morgenstern said. "We have abdicated that responsibility with the decreasing time we spend with patients and lack of shared decision-making."
The COVID-19 pandemic also affected health literacy and doctor-patient interactions. At times, public health messaging was complicated. The internet, social media and news and talk shows were filled with a cacophony of confusing messages or misinformation.
The solution is clear communication. That means easy-to-understand language on websites and simply worded guidance from public health departments and health insurance plans, Paasche-Orlow said. For physicians, it means avoiding jargon and making sure that patients understand what was discussed during a visit without making it feel like a test.
It also means not getting defensive or judgmental when a patient brings up something they read online.
"It means they were motivated to learn something about their health. This is a good thing," Paasche-Orlow said. "Help them get excellent sources of information so they can continue to learn."
He offered a simple piece of advice for patients: Come prepared to your appointment with questions, and ask new ones as you need during the visit to make sure you understand all that's happened.
"Any kind of balanced view of this topic needs to look at all players and consider solutions at all levels," Paasche-Orlow said.