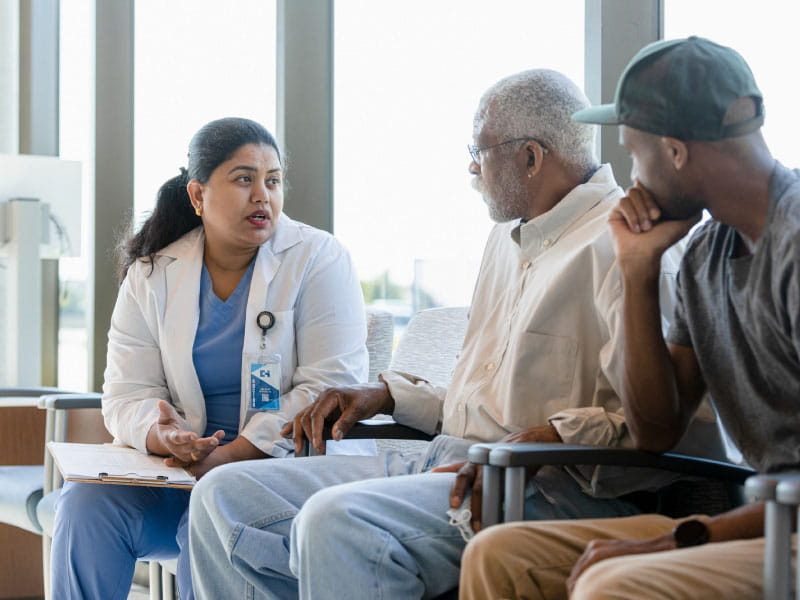 When a person dies suddenly from cardiac arrest – especially if they are young – family members often struggle to understand what happened.
How well death investigators and health care professionals communicate with family members about the causes of sudden cardiac deaths may influence their decision to seek screening for inherited heart conditions, according to a new study, published Tuesday in the American Heart Association journal Circulation: Cardiovascular Quality and Outcomes.
"Sudden cardiac deaths in young people are rarely expected, leaving families with many questions," study co-lead author Katherine S. Allan said in a news release. Allan is a researcher in the division of cardiology at Unity Health Toronto-St. Michael's Hospital in Ontario, Canada.
"Our findings suggest that the communication formats, methods and processes, along with other external factors, such as funeral costs and unpaid time off from work, may influence family members' decisions to seek follow-up screening," she said. "More families may go for follow-up screening if their risk is adequately explained by a health care professional and if other external factors are manageable."
Sudden cardiac death takes 4 million to 5 million lives globally each year. In 2020, it caused more than 436,000 U.S. deaths, according to AHA statistics. When sudden cardiac death happens to a person under 45, it is usually due to an underlying heart condition, such as a structural abnormality in the heart or an irregular rhythm. These conditions may be hereditary.
The study says various heart societies worldwide recommend genetic testing for all first-degree relatives of people who die from sudden cardiac arrest to determine whether they also are at risk from an underlying heart condition.
In the new study, researchers in Canada interviewed 19 parents, siblings, adult children and spouses of 12 people, ages 12 to 45, who had a sudden cardiac death caused by a genetic heart condition between 2014 and 2018 in Ontario. They asked questions about the family members' experiences learning about their relative's cause of death, understanding their own risk for genetic heart conditions and whether to pursue screening for these conditions.
Participants said they relied on communication from death investigators and health care professionals to understand why their relative died and whether they also were at risk. Several said they felt overwhelmed by a "whirlwind" of emotions after the death and that receiving information in multiple formats, such as in-person, by phone and in writing, helped them retain it better.
"These findings emphasize the importance that any death investigator and health care professional who interacts with families after the death of a loved one should provide clear and accurate information about the cause of death in plain language, answer questions as they arise and understand that this discussion may need to be repeated multiple times due to the 'fog of grief' experienced by bereaved families," Allan said.
In an editorial accompanying the study, Kimberly Dukes and Dr. Saket Girotra wrote that the new research highlights an important and currently unmet need. "Although our scientific understanding of genetic causes of (sudden cardiac death) has advanced rapidly, our knowledge of how to communicate this information to help families understand the cause of their loved ones' death and navigate their own personal risk has lagged," they wrote.
Dukes is an anthropologist in the department of general internal medicine at the University of Iowa Carver College of Medicine. Girotra is an associate professor in the division of cardiovascular diseases at UT Southwestern Medical Center in Dallas. Neither was part of the study.
The study was limited to the experiences of people living in Canada, where coroners are required by law to investigate all sudden and unexpected deaths. In the U.S., requirements for which deaths are investigated or undergo autopsy vary by state. However, the study authors said their findings may still be applied to other populations.