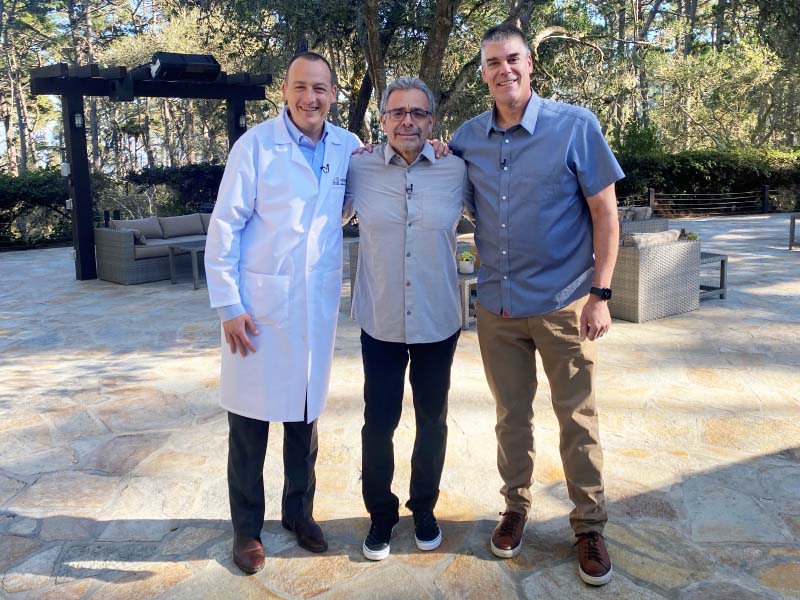 Running the Monterey Bay Half Marathon, Dr. Steven Lome kept his eyes locked on two runners ahead of him.
They were his oldest kids, 16-year-old Jadyn and 14-year-old Ian. Both are on their high school's cross-country team and, Lome said, "both are way faster than me." His goal was to keep them in sight as long as possible.
Three miles in, Lome could still see them. Then something else caught his attention. About 30 feet ahead of him, a man collapsed.
Lome darted to him. He and two other people trained in CPR took turns doing chest compressions. They did it for about six minutes, waiting for an automated external defibrillator to arrive. A single shock restored a sustainable rhythm.
As an ambulance sped the man toward the hospital, Lome – the medical director of a local cardiology group – called the cardiologist who'd be treating him.
Lome provided details typically passed along by the hospital, not another cardiologist. It was even less likely to have such a conversation early on a Sunday. So once the other doctor took in the information, he said something to the effect of: "OK, thanks. But why are you calling me?"
"Because I'm the one who gave him CPR," Lome said.
Upon hanging up, Lome felt frazzled. His mind raced. Among his thoughts: Now what? With the patient being cared for and his kids miles ahead, Lome decided to keep running.
Steps after crossing the finish line – so soon that he'd yet to receive a finisher's medal – Lome heard a panicked voice scream, "We need some help over here!"
Another man was on the ground. Another cardiac arrest.
Lome started CPR by himself. About a minute later, someone brought him an AED. The defibrillator shocked the man's heart back into a sustainable rhythm. As another ambulance sped another cardiac arrest survivor to the same hospital, Lome hit redial to reach the same cardiologist he'd spoken to two hours before.
As stunning as it is to think that a single person helped resuscitate two people in such a brief span, imagine how stunning it was for that cardiologist when he realized Lome was sending him another person whose life he'd just helped save.
"I think he didn't believe me," Lome said recently, laughing as he recalled their conversation.
Days later, Lome grasped the magnitude of what happened.
He shared the story on social media, mainly to tout the importance of learning CPR and the value of AEDs. Yet he also wanted to spread another, more encompassing message: "It's great to get somebody back after a cardiac arrest. But it's even better to prevent a cardiac arrest from happening in the first place."
While it's easy to think, That's what a cardiologist is supposed to say; it's his job to push diet and exercise, there's a twist to this.
The emphasis on a heart-healthy lifestyle isn't coming from Lome, the cardiologist. It's coming from a 44-year-old man who ignored his diet and avoided exercise until the day it caught up to him nearly a decade ago.
So, to truly appreciate the story of how one cardiologist saved the lives of two runners at one race, it's important to know the story of how that cardiologist even came to be running that race.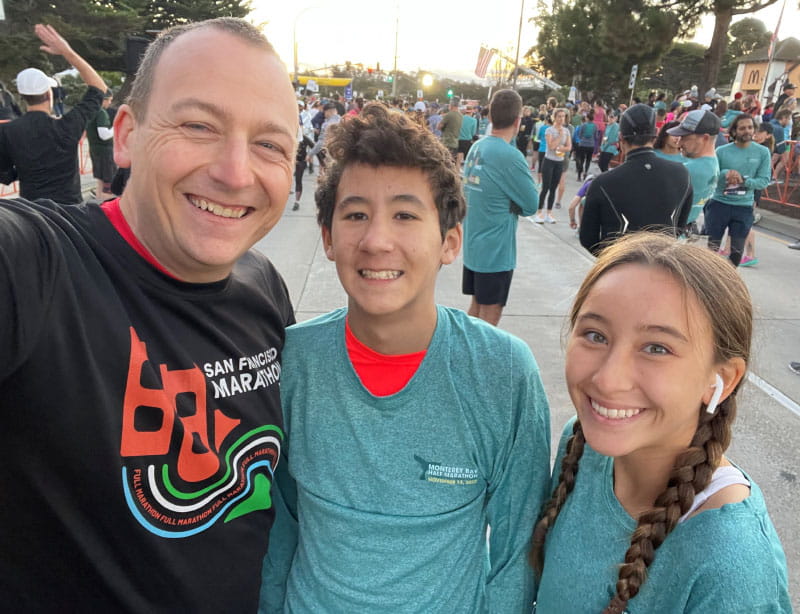 ***
Growing up, Lome never was much of an athlete. He recalls being "terrible" at peewee baseball. His only high school team?
Chess.
Meanwhile, almost every day of high school, lunch was a burger, fries and soda. Instead of homecooked dinners, family meals were "a lot of processed foods, pre-prepared foods and restaurant foods."
Both his parents would go on to weigh over 300 pounds. Both developed Type 2 diabetes. His sister weighed over 400 pounds while in high school. So as his waistline expanded, Lome told himself, "I guess we're a genetically obese family."
Lome headed to college eager to make a big impact on the world. That desire led him to medical school, then into cardiology.
"Where can you make a bigger impact than taking on the No. 1 cause of death?" he said.
His medical training in the early 2000s was typical for the time. The focus was diagnosing heart problems and fixing them, via procedure or medication. He doesn't recall much talk about preventing heart disease.
Thinking back to all his years of medical school, an internal medicine residency and a fellowship in cardiovascular disease, Lome remembered only a single lesson about nutrition.
"And it was on vitamin deficiencies that happen during starvation," he said.
***
At 34, Lome was practicing in a large health care system in Chicago.
He was married and raising four kids in a suburb a short drive from where he grew up.
He weighed about 260 pounds, way too much for someone 6-foot-1. His blood pressure was high. He had sleep apnea. Acid reflux, too. His back often ached.
At home one day, he was carrying upstairs a box that weighed less than 20 pounds.
He began panting. He stopped and put the box down. Waiting to regain enough energy to continue, he muttered to himself, "Geez, I'm not in good shape. And I'm a cardiologist."
That was it – his aha! moment.
He decided it was time to overhaul his lifestyle.
To get moving and eat better.
He just had to learn how.
***
Lome started by going for a walk.
Walking led to jogging. Next came running long distances.
He ran a marathon. Then another.
"After the second marathon, I was still overweight based on my body mass index," Lome said. "More importantly, my blood cholesterol numbers were still borderline high. I was like, 'How can this be?'"
At this point, his big diet change was adopting the approach of eating everything in moderation. Obviously, that wasn't enough.
Which foods he needed to avoid was easy. The challenge was figuring out what he should eat.
Early in his search, Lome watched a documentary about a plant-based diet. It made such a compelling case that he went away thinking, "This can't be real." He dove into evidence-based research in medical journals, expecting to debunk what he'd heard. Instead, he came away intrigued enough to try it.
Within months, Lome dropped the final 20 or so pounds needed to reach 175, the ideal weight for his height. His LDL (bad) cholesterol dropped from that borderline-high figure of 135 mg/dL to 60, well below the target range.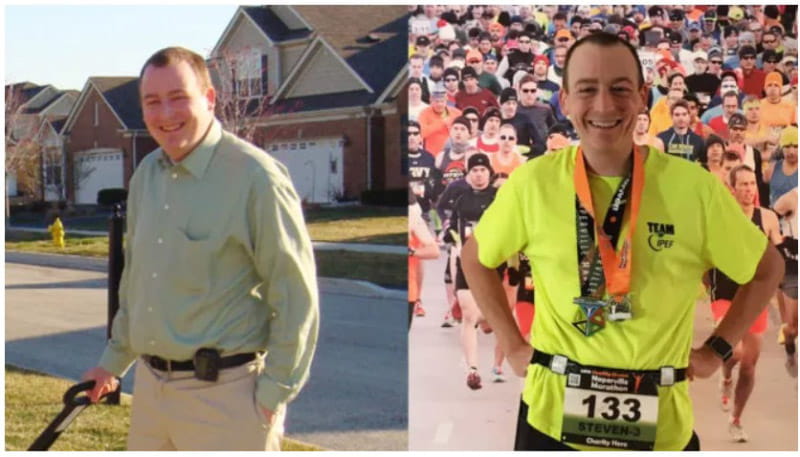 Lome also reevaluated the narrative that he was predisposed to obesity.
"Genes might load the gun, but lifestyle pulls the trigger," he said. "Most of the time, your lifestyle choices are more powerful than the genes you're born with."
***
Having seen for himself that a heart-healthy lifestyle is a path to good health, Lome transformed his practice.
He still follows all guidelines. Only now he also makes sure patients know that most cases of heart disease are preventable for people who don't face barriers to health. He explains that diet and exercise are the main tools for prevention. He asks what they eat for breakfast, lunch and dinner; what they do for exercise and how often they do it.
He's also started doing the kinds of things you'd expect from a guy who became a cardiologist to make a big impact on the world.
Lome created a website promoting healthy eating, physical activity and other lifestyle changes to prevent and reverse chronic diseases. Then he started Plant-Based Nutrition Movement, a nonprofit with the tagline "Eat plants. Save the world." Through videos and podcasts, he continued to spread the message that the best way to beat heart disease is by doing the things proven to help avoid it.
"Prescribing pills and waiting for that person's arteries to clog so we can put in a stent or do a bypass – that doesn't make common sense to me, especially knowing that for many people, the first symptom of heart disease is sudden death," Lome said. "You never know if you're going to be that person who keels over on a marathon course."
***
In 2020, one of Lome's friends moved to Monterey, California. He began hyping the area. Living near the Pacific Ocean seemed glorious to Lome, a lifelong Midwesterner.
He wound up moving his family – now up to six kids – across the country in the middle of a pandemic.
He continued to run. However, between a hectic life and pandemic restrictions, his first in-person race in California wasn't until the second Sunday of this past November, when he, Jadyn and Ian took on the Monterey Bay Half.
Also in the field was Greg Gonzales of Vancouver, Washington.
At 67, he'd been running for nearly 50 years. But he'd never finished a half-marathon in under two hours. He upped his training in recent months in hopes of finally doing it.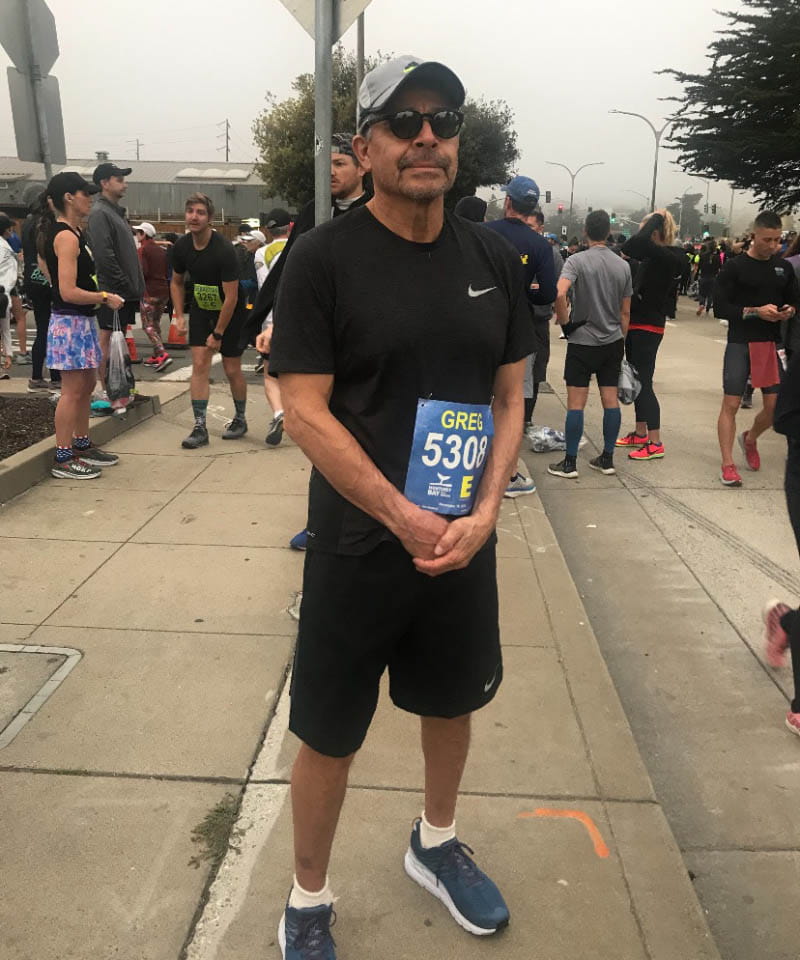 Coming out of mile 2 – which goes along Cannery Row, a stretch along the Pacific that served as the setting for a John Steinbeck novel of the same name – Gonzales felt great. Next came the biggest hill on the course.
Having trained for it, Gonzales actually picked up his pace. Once he was heading downhill toward the ocean, Gonzales was so confident of setting a personal record that he began looking forward to how he'd celebrate. He already had a ticket to that night's Chargers-49ers NFL game; maybe now he'd grab lunch and a beer in Carmel on his way to the stadium.
Then Gonzales' heart stopped beating.
He dropped to the ground. His head hit the pavement hard enough that blood was already pooling when Lome reached him seconds later. Gonzales wasn't breathing and had no pulse.
Lome had given CPR to hundreds of people in hospitals, but never as a bystander. CPR and a shock from an AED restored Gonzales' heart rhythm.
Once Lome finished sharing all he knew with the doctors who'd be treating Gonzales, he logged in to the hospital's electronic records system. He saw that Gonzales was awake and alert. Initial test results were encouraging. So, off he went, knowing Jadyn and Ian would be waiting for him at the finish line.
When he finally got there, Lome threw up his arms in celebration. He was scanning the crowded area looking for his kids when he heard a panicked scream.
Michael Heilemann of San Anselmo, California, had just finished what was going to be his final long-distance race.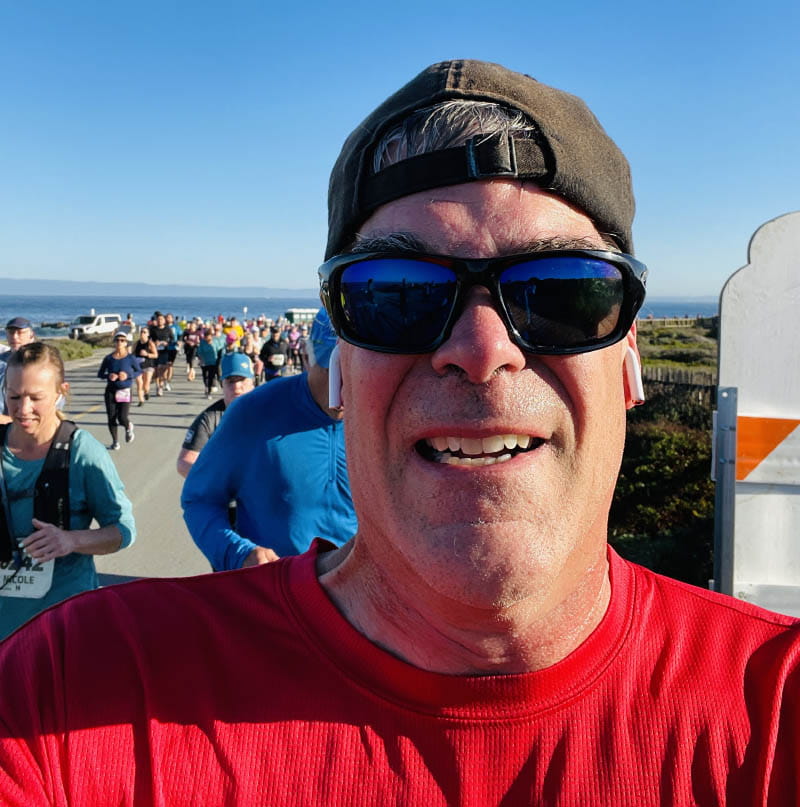 Unlike Gonzales, Heilemann didn't care about his time. He slowed as he crossed the finish line, took a few more steps, then felt dizzy. He grabbed a rail to steady himself.
Then his heart stopped beating.
Lome found him unresponsive, with a pool of blood behind his head and no pulse – eerily like Gonzales.
"Alright, alright," Lome thought. "Let's do it again."
Because this happened near the finish line, a medical tent was nearby. A volunteer brought Lome an AED within a minute of him starting CPR.
Lome hooked up the machine, then waited for it to evaluate whether Heilemann needed a shock. While doing that, the machine announces, "Analyzing rhythm." However, because this was happening so close to the finish line, neither Lome nor the volunteer could hear anything coming from the device. Lome pulled the AED up to his ear just in time to hear, "Shock advised."
After the machine delivered the shock, Lome resumed chest compressions.
A few pumps later, Heilemann opened his eyes and said, "Why am I down here?" He stopped the timer on his watch and tried getting up, thinking he'd fainted.
Soon, Heilemann was on his way to the same hospital as Gonzales.
Lome went to find his kids. And to collect his medal.
***
It's important to note the difference between a heart attack and cardiac arrest.
A heart attack is caused by a blockage in a coronary artery; think of it as a plumbing problem. Cardiac arrest is a glitch in the heart's electrical system; it's like the power going out. Cardiac arrest can be caused by a heart attack.
Gonzales and Heilemann both had blockages that caused their hearts to stop. In other words, both had cardiac arrests caused by heart attacks.
At the hospital, each underwent a cardiac catheterization procedure that used a stent to restore blood flow. Heilemann also went home with an implantable cardioverter defibrillator, a device that monitors his heart's rhythm and can deliver a shock if things get out of whack. A few weeks ago, he received four more stents.
Gonzales and Heilemann have something else in common: A family history of heart disease. Remember how most cases of heart disease are preventable? A family history is behind some of those other cases.
Gonzales' father died of a heart attack at 58, and his brother had a massive heart attack at 59. His brother survived, getting his blockages opened with stents. He's now 73.
Heilemann was 56, a couple of years older than his father had been when his heart stopped – also during a running race. CPR and an AED saved his dad. He lived another 22 years before dying of heart disease. Heilemann also lost an uncle and cousin to heart disease.
While Heilemann and Gonzales couldn't outrun their family history, their fitness did play a role in their recovery.
***
The day after the race, Lome visited the hospital.
Lome asked Heilemann whether he'd received his finisher's medal.
"No," Heilemann said.
"I've got one for you," Lome said, not mentioning it was his own.
Days later, Gonzales and Heilemann learned they were one of two people Lome saved that day.
They've since become good friends. "We call ourselves twins because we both have the same new birth date," Gonzales said.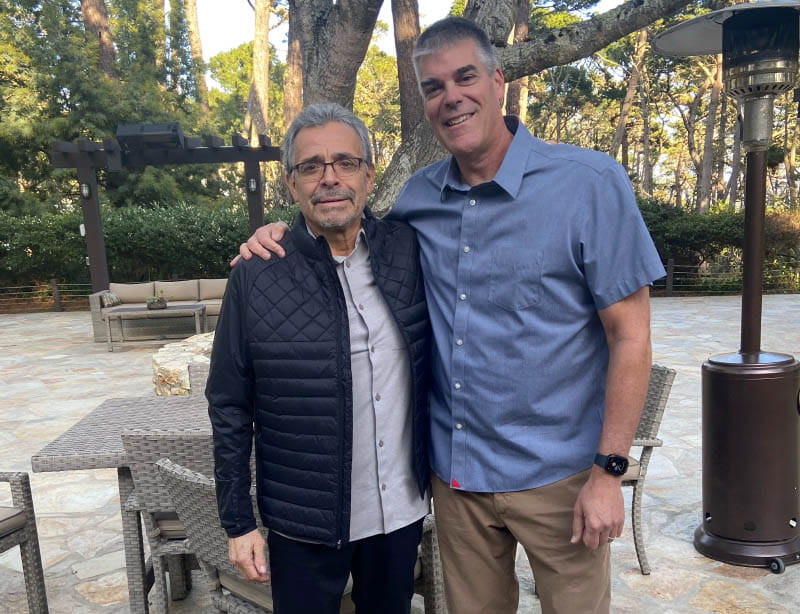 They text each other encouragement with their recovery – and advice about their new diets. Both are now plant-based, as are many of their loved ones.
"I just texted him a recipe for a veggie curry stew," Heilemann said. "We've also been texting about peanut butter versus almond butter versus cashew butter."
About a month after the race, Gonzales, Heilemann and Lome were together for an interview with the "Today" show. The reunion was emotional for them and anyone watching.
By this point, Heilemann had learned that he'd received Lome's own medal. During this visit, Heilemann gave Lome a replacement medal provided by race officials.
They're all aiming to add one more medal to their collections. In November, the trio plan to run the Monterey Bay Half together.
***
The Friday after the race, Lome wrote about what happened in a private Facebook group for physicians. He closed with this: "Share any other crazy medical stories that seem statistically unbelievable that you have seen or heard …"
His aim was to stir up conversation among colleagues. Instead, his peers were in awe.
The feedback made Lome realize the story deserved a wider audience. The next day, he spooled out the tale over a series of 12 posts on Twitter. Within days, the story was told by USA Today, The Washington Post and more.
As the story continues to find new audiences, each retelling carries a fitting byproduct.
It expands Dr. Steven Lome's impact on the world.
Stories From the Heart chronicles the inspiring journeys of heart disease and stroke survivors, caregivers and advocates.
If you have questions or comments about this American Heart Association News story, please email [email protected].